Checkout the Full List of CreateStudio Characters / Actions
Latest CreateStudio Characters
A Complete List Of ALL CreateStudio Templates!
CreateStudio receives it's monthly updates in the form of software bug fixes and templates library + 3D characters and much more, on 15th – 20th of each month. I am going to keep this list 
updated
as new CreateStudio characters and actions are published!
CreateStudio Characters / Actions
Here is the list of characters and their actions.
**Some characters are only available to 
All Access Club
subscribers. You must have CreateStudio license to avail All Access Club Subscription.
FREE 3D CREATESTUDIO CHARACTERS
:
| | | | |
| --- | --- | --- | --- |
| Tom  (FREE) | Sally  (FREE) | Astronaut  (FREE) | Michelle (FREE) |
| Angry Happy Idle Pointing Sad Selfie Showing Thinking Thumbs Up Typing Typing Happy Waving | Camera Catch Point Left Sad Selfie Thumbs Up Typing Typing Happy Typing Thinking Walking Waving Talking Idle Happy Angy | Floating Idle Phone Pointing Robodance Speaking Tablet Thinking Typing Wave Wink Walking Happy Sad Thumbs up Talking | Walking Camera Catching Pointing Sad Selfie Thinking Thumbs Up Typing Typing Happy Typing Thinking Waving Talking Idle Happy Angry |
| Allysa (FREE) | Willie (FREE) | Hannah (FREE) | Bruce (FREE) |
| Bored Embarrassed Happy Idle Listening Playing with a tablet Pops out of the box Pssst Running Sad Talking Doing homework Thumbs up Waving | Arms Dumbbells Headphones Ipad Pointing Push Ups Running Stretches Talking Walking Idle Waving Happy Sad | Point to left Talking Sad Talking on the phone Thinking (then frustrated) Thinking (then gets an idea) Thumbs up Walking Wave Working on PC (back) Working on PC (front) Working on PC (frustrated) | Fall asleep Point to left Talking Riding a scooter Sad Talking on the phone Thinking (then frustrated) Thinking (then gets an idea) Thumbs up Walking Wave Working on PC (front) Working on PC (back) Working on PC (frustrated) |
ALL ACCESS CLUB 3D CHARACTERS
:
May 2020 CreateStudio Characters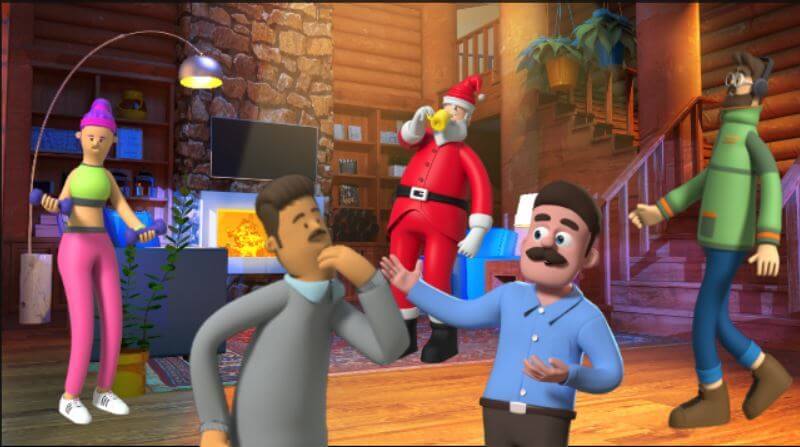 | | | | | |
| --- | --- | --- | --- | --- |
| Gym Girl | Businessman | Santa | Mike | Paul |
| Drinking Dumbbells Ipad Pointing Rocket Running Stretching Thumbs Up Waving Talking Idle Happy Sad | Idea Phone Plane Pointing Rocket Talking Walking Stretches Working on pc front Working on pc back Happy Idle Sad Thumbs up Waving | Drinking Holding Present Listening Music Riding on Sleigh Sitting with Laptop Walking Waving With Dog Working on PC Back Talking Idle Happy Sad | Angry Happy Idle Point Left Point Right Sad Selfie Thinking Thumbs Up Walk Left Walk Right Talking Waving | Headphones Ipad Phone Pointing Rocket Showing Left Showing Right Skateboarding Waving Working on Computer Back Working on Computer Front |
June 2020 CreateStudio Characters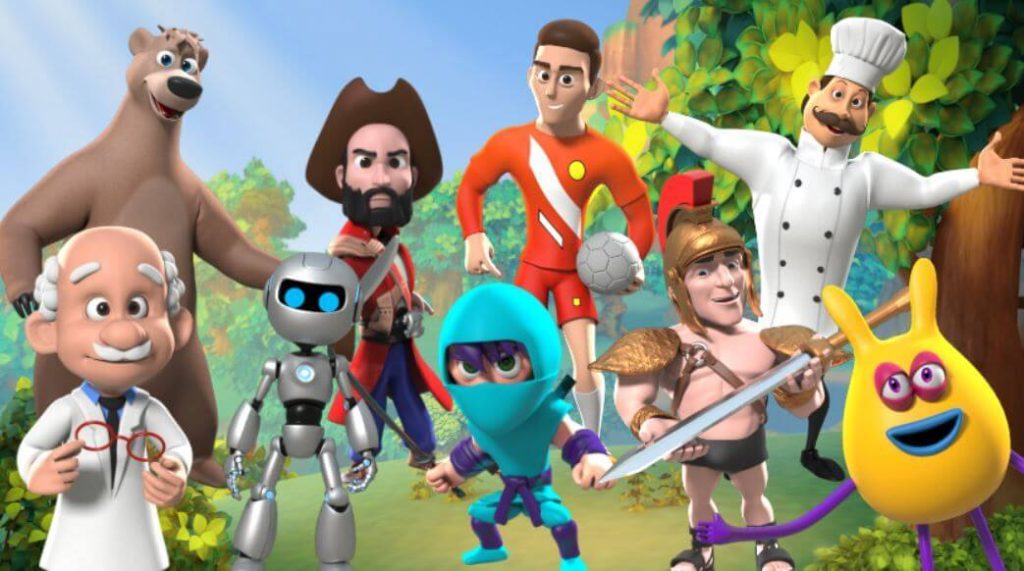 | | | | | |
| --- | --- | --- | --- | --- |
| Bear | Pirate | Football player | Chef | Abstract |
| Confused Drinking Coffee Idle Juggling Jump Laughing Pointing Left Sad Scaring People Talking Talking Presenting Waiting Walking Writing on PC Showing from behind the corner | Angry Crazy Smile Frown Funny Dance Gesture Happy Idle Pointing Sad Talking Threatening Walking Waving | Celebrate Holding Ball Idle Juggling Playing with Ball Sad Selfie Talking Tired Trick Waving | Angry Cooking Happy Idle Pointing with spoon Sad Talking Tastes great Trying food Walking Waving Welcome | Backflip Clever Look Disappointed Happy Idle Running Sad Talking Talking and Pointing Terrified Using an iPad Walking |
| Scientist | Robot | Ninja | Gladiator | |
| Angry Clever Smile Desperate Explosion Happy Holding Test Tubes Pointing Sad Saying No Super Angry Talking Thinking Waiting Walking Waving | Angry Happy Idle Pointing Talking Robot Dance Running Sad Transformers Waving Writing on PC Writing on PC and Scratching | Angry Funny Dance Happy Idle Jump Pointing Pulling Sword Sad Talking Thumbs up Walking Walking on tiptoe Waving Working on PC frustrated Working on PC happy | Absolute Panic Crazy Laugh Happy Helmet on Backwards Idle Playing with Sword Pointing Sad Screaming Noooo Singing Talking Threatening Walking Writing on PC Confused Writing in PC Happy | |
July 2020 CreateStudio Characters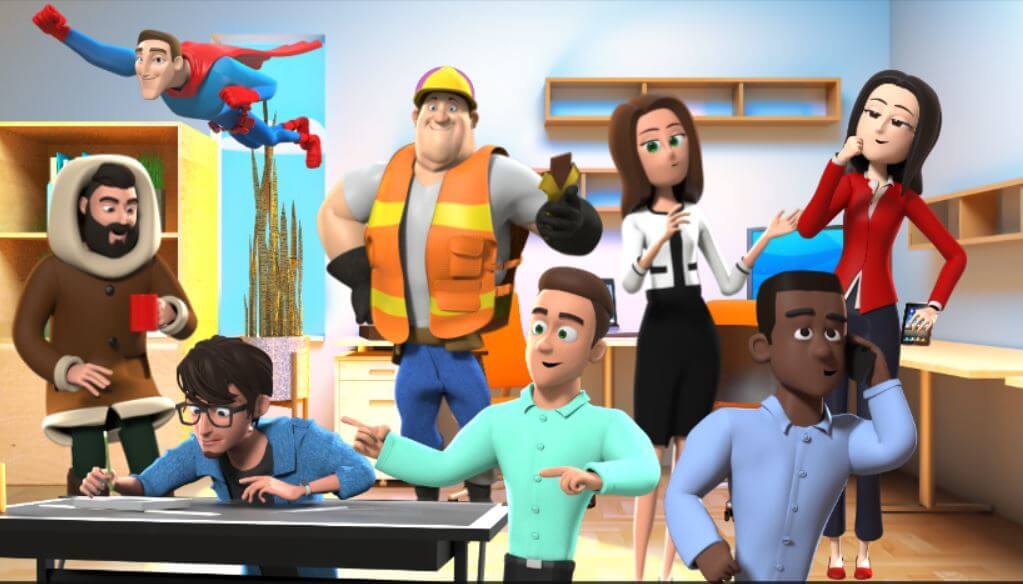 | | | | | |
| --- | --- | --- | --- | --- |
| Joe | Superhero | Handyman Bob | Kate | Susie |
| Drinking hot chocolate Idle Point to left Sad Talking Talking on the phone Thinking (then gets an idea) Thumbs up Walking Wave Working on PC (back) Working on PC (unsure) | Flying Fly in to idle Fly like Superman Happy Pointing Talking Talking (fast) Teaching Unhappy Waiting Walking Wave | Celebrate Eating snack Happy Hmmm Idle Back pain Phone call Pointing Pure smile Pointing Unhappy Waiting Walking Wave Talking | Driving a car Fall asleep Idle Pointing Sad Talking Thinking (then frustrated) Thinking (then gets an idea) Thumbs up Walking Wave Working on PC (back) Working on PC (front) Working on PC (frustrated) Happy | Idle Point to left Talking Riding a scooter Sad Talking on the phone Thinking (then frustrated) Thinking (then gets an idea) Thumbs up Walking Wave Working on laptop (front) Working on PC (back) Working on PC (frustrated) |
| Sam | Ben | Will | | |
| Cool smile Frustrated Happy Makin sketches Talking Waiting Walking Walking dog Wave Working on PC (back) Working on PC (front) | Idle Point to left Talking Sad Talking on the phone Thinking (then frustrated) Thinking (then gets an idea) Thumbs up Walking Wave Working on PC (front) Working on PC (unsure) | Driving a car Fall asleep Pointing to left Talking Sad Talking on the phone Thinking (then frustrated) Thinking (then gets an idea) Thumbs up Walking Wave Working on PC (front) Working on PC (back) Working on PC (frustrated) | | |
August 2020 CreateStudio Characters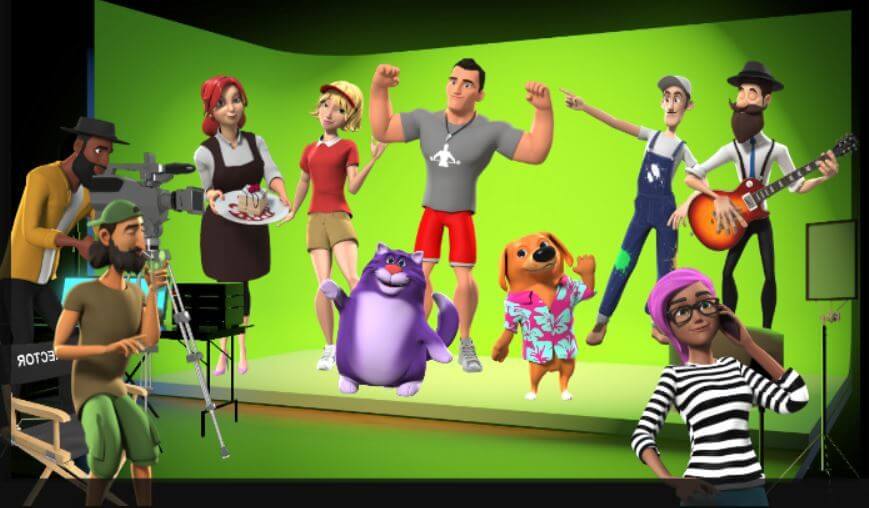 | | | | | |
| --- | --- | --- | --- | --- |
| Photographer | Coffee lady | Delivery girl | Fitness instructor | Painter |
| Happy Idle Looking into camera Making a video Pointing Sad Taking a photo Talking Thinking then gets confused Thinking then gets an idea Thumbs up Walking Waving Working on PC | Baking a cake Drinking coffee Happy Holding a cake Idle Pointing Pouring coffee Sad Talking Thumbs up Thumbs down Walking Waving Welcoming | Dance Driving a food truck On a scooter Happy Holding Pizza and smiling Idle Pointing Sad Talking Thumbs up Waving Walking | Bicep curls Press ups Sit ups Flexing muscles Happy Idle Pointing Running Sad Talking Talking loop Thumbs up Walking Waving | Catching a toolkit Celebrate Funny dance Happy Idle Paint Splashing Painting Pointing Sad Talking Thumbs up Walking Waving |
| Travel guy | Cat | Dog | Freelancer girl | Musician |
| Happy Happy dance Idle Looking at map Looking up Paragliding loop Putting sunglasses Sad Sitting and sipping juice Sitting and sleeping Sunbathing Talking Thumbs down Thumbs up Walking Waving Working on PC | Eating cat food Happy Happy dance Idle Move with paw Pointing Running Sad Sleeping Talking Thumbs up Thumbs down Walking Waving | Barking Dancing Eating Happy Idle Pointing Sad Talking Thumbs up Thumbs down Walking Waving Working on PC | Happy Making sketches Pointing Sad Talking Talking on the phone Thinking then confused Thinking then gets an idea Thumbs up Using ipad Walking Waving Working on PC front Working on PC back | Happy Idle Listening to music Playing drums Playing keyboard Playing guitar Pointing Sad Talking Thinking and confused Thinking then gets idea Thumbs up Walking Waving |
September 2020 CreateStudio Characters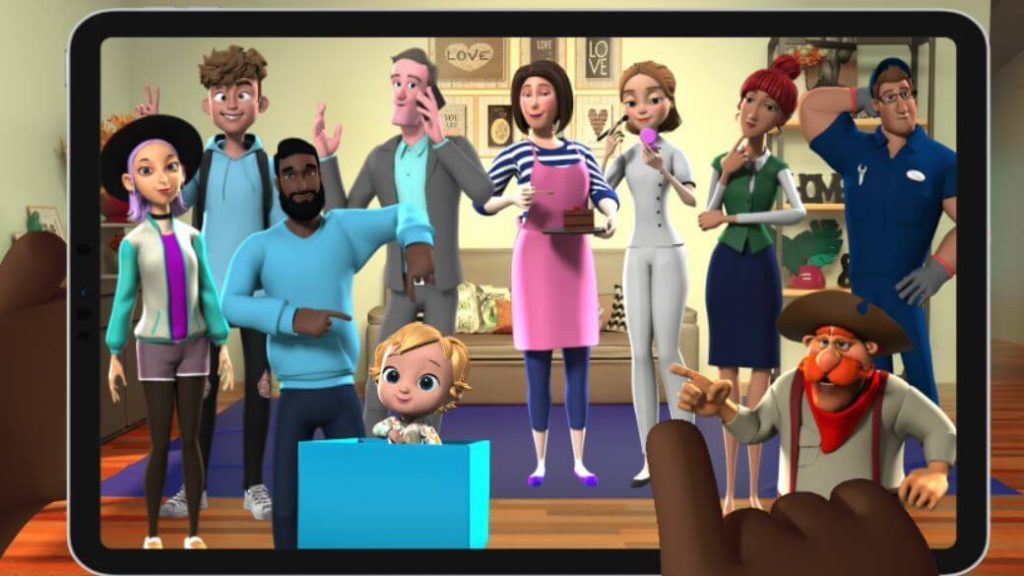 | | | | | |
| --- | --- | --- | --- | --- |
| Teen boy | Teen girl | Beautician | YouTuber | Teacher |
| Bored Checking phone Happy Idle Jump in and wave Jump in funny face Pointing Riding bike Sad Skateboarding Call to action Talking Talking variation Thumbs up Walking Wave Working on PC | Checking phone Happy Idle Jump in and wave Jump in funny face Pointing Riding bike Sad Skateboarding Call to action Talking Talking variation Thumbs up Walking Wave | Come in to store Idle Pointing Putting make up on face Putting nail polish Sad Talking Talking variation Talking on phone Thinking Thumbs up Walking Waving Welcoming people | Checking phone Happy Idle Pointing Sad Call to action Talking Talking variation Thumbs up Vlogging Walking Walking and Vlogging Wave Working on PC front Working on PC back | Happy Idle Pointing Talking Talking variation Thinking then gets an idea Thumbs up Unsure Walking Wave Working on PC Writing on whiteboard Writing on whiteboard variation |
| Mechanic | Home cook | Gold digger | Old businessman | Baby |
| Driving a car Fixing a car Happy Idle Jump in and wave Pointing Sad Swiping on ipad Talking Talking variation Talking on phone Thinking then gets an idea Thumbs up Unsure Walking Wave | Cooking Cutting vegetables Eating cake Happy Holding a cake Idle Pointing Sad Subscribe Call to action Talking Talking variation Thinking then gets an idea Thumbs up Walking Waving | Digging for gold Driving a car Happy dance Idle Jump in and wave Panning for gold Pointing Sad Talking Talking variation Throw gold in the air Throw money in the air Thumbs up Walking Waving Working on PC | Checking Paper doc Checking Phone Funny Dance Happy Idle Phone Call Pointing Sad Talking Talking Another Variation Throwing Papers Thumbs Up Walking Waving Working on PC Back Working on PC Front | Crawling Crying Drinking Giggling Happy Idle Jump out of box Playing with a toy Pointing Subscribe call to action Talking Talking variation Thumbs up Walking Wave |
| Ipad hand | | | | |
| Black hands Black hand swipe Brown hand Brown hand swipe White hand White hand swipe | | | | |
October 2020 CreateStudio Characters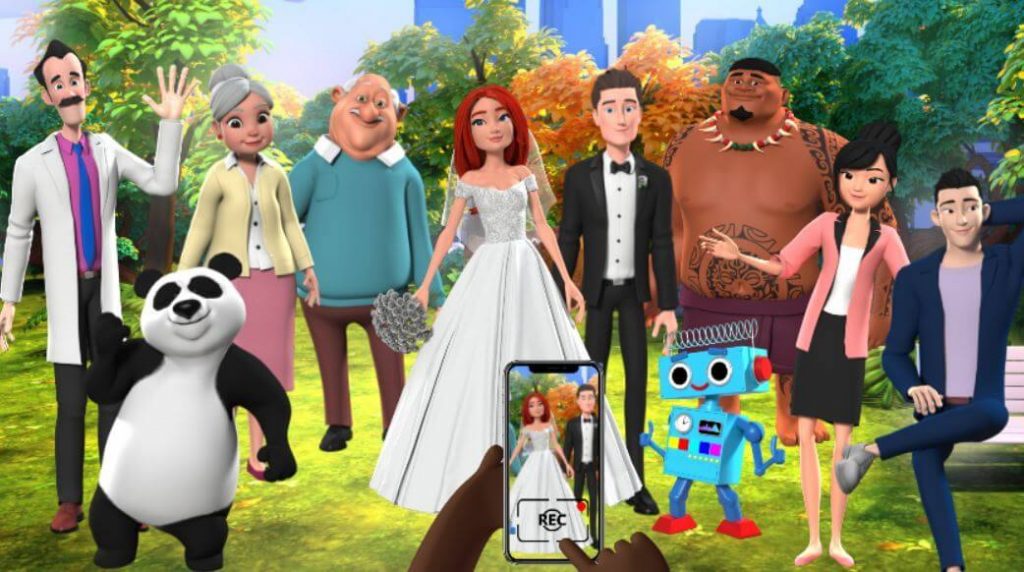 | | | | | |
| --- | --- | --- | --- | --- |
| Bride | Groom | Grandma | Grandpa | Doctor |
| Blowing a kiss Dancing Happy Idle Jump in and wave Pointing Release pigeons Sad Saying yes Showing ring Talking Talking variation Thinking then gets an idea Throwing a bouquet Thumbs up Thumbs down Walking Wave Working on PC Front Working on PC frustrated | Driving a car Carrying bride Celebrate Dancing Happy Holding a rose Idle Jump in and wave Pointing Proposing Sad Talking Talking variation Thinking then gets an idea Thumbs up Thumbs down Walking Wave Working on PC Front Working on PC frustrated | Funny dance Happy Grumpy Idle Jump in and wave Pointing Sad Behind the corner Sitting and reading Talking Talking variation Thinking then gets an idea Thumbs up Thumbs down Using ipad Walking Waving Working on PC back Working on PC front Working on PC frustrated | Funny dance Happy Grumpy Idle Jump in and wave Pointing Sad Behind the corner Sitting and reading Talking Talking variation Thinking then gets an idea Thumbs up Thumbs down Using ipad Walking Waving Working on PC Back Working on PC Front Working on PC Frustrated | Come in Happy Holding a test tube Idle Jump in and wave Pointing Putting on face mask Relaxing Sad Scratching head Talking Talking variation Tired hinking then gets an idea Thumbs up Thumbs down Walking Waving Working on PC Back Working on PC Front |
| Haru | Kahua | Panda | Robot | Sakura |
| Happy Idle Jump in and wave Pointing Sad Behind the corner Sitting and relaxing On mobile With suitcase Taking photo Talking Talking variation Thinking then gets an idea Throwing money Thumbs up Thumbs down Walking Waving Working on PC Back Working on PC Front | Flying like superman Haka dance Happy Hawaiian dance Idle Jump in funny face Jump in and wave Pointing Pointing down Sad Behind the corner Talking Talking variation Thinking then gets an idea Thumbs up Thumbs down Walking Waving Working on PC Back Working on PC Front | Rolly polly Happy Dance Idle Jump in funny dance Jump in roar Jump in wave Pointing Sad Behind the corner Subscribe Talking Talking variation Thinking then idea Thinking confused Thumbs up Walking Waving Working on PC | Robot dance Funny face Happy Idle In love Jump in and wave Pointing Pointing down Sad Behind the corner Slide in funny face System damage Talking Talking variation Thinking then idea Thinking confused Transform Walking Waving Working on PC Back Working on PC Front | Happy Happy dance Idle Jump in and wave Pointing Sad Behind the corner Sitting SMS on mobile With suitcase Taking photo Talking Talking variation Thinking then gets an idea Throwing money Thumbs up Thumbs down Walking Waving Working on PC Back Working on PC Front |
| Iphone hand | | | | |
| Swipe black Swipe brown Swipe white Tap black Tap brown Tap white | | | | |
November 2020 CreateStudio Characters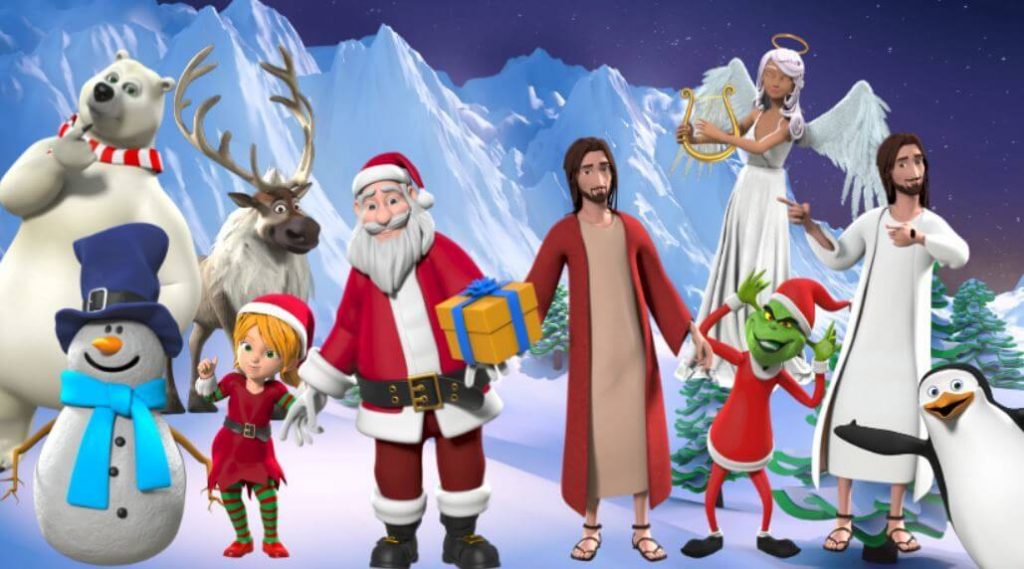 | | | | |
| --- | --- | --- | --- |
| Angel | Elf | Charles | Jesus |
| Flying Flying in Flying out Happy Idle Jump in & funny face Jump in & wave Playing harp Pointing Pointing down Pushing an object Sad Singing Talking Talking variation Thinking/frustrated Thinking/ gets an idea Thumbs up Thumbs down Walking Wave | Backflipping Happy Happy dance Idle Jump in/funny face Jump in/wave Making a toy Playing with a toy Pointing down Pointing Presenting a toy Presents fall Sad Talking Talking variation Thinking/gets an idea Thumbs up Thumbs down Walking Wave | Crazy smile Dragging a bag of presents Happy Idle Jump in/funny face Jump in/wave Pointing down Pointing Tongue out Presents falling Pushing an object Sad Scare people Showing from corner Talking Talking variation Thinking/gets an idea Thumbs up Thumbs down Walking Wave | Carrying the cross Hanging on a cross Happy Idle Jump in/funny face Jump in/wave Pointing down Pointing Praying Reading the Bible Riding a donkey Riding a donkey(back) Sad Showing from corner Talking Talking variation Thinking/gets an idea Thumbs up Transfiguring Walking Wave Welcome gesture |
| Jesus in white | Snowman | Reindeer | Santa Claus |
| Happy Idle Jump in/funny face Jump in/wave Pointing down Pointing Praying Reading the Bible Riding a donkey Riding a donkey(back) Sad Showing from corner Talking Talking variation Thinking/gets an idea Thumbs up Transfiguring Walking Wave Welcome gesture | Building up Rolly polly Happy Idle Jump in/funny face Jump in/wave Jump in/grab a hat Melting Pointing Pushing an object Sad Showing from corner Talking Talking variation Thinking/gets an idea Thumbs up Transfiguring Walking Wave Wind blows off hat | Dancing Happy Happy dance Idle Jump in/funny face Jump in/wave Loud laugh Pointing down Presents falling Pushing an object Running Sad Showing from corner Talking Talking variation Thinking/gets an idea Unsure Walking Wave | Carrying a sack Rolly polly Drinking hot choco Happy Idle Jump in/funny face Jump in/wave Pointing down Pointing Giving a present Presents falling Pushing an object On a sleigh Sad Slide in/thumbs up Talking Talking variation Thinking Thinking/gets an idea Thumbs up Walking Wave Working on PC |
| | | | |
| --- | --- | --- | --- |
| Penguin | Polar bear | | |
| Dancing Rolly polly Happy Idle Jump in/funny face Jump in/wave Pointing down Pointing Pushing an object Sad Saluting Showing from corner Swiping on ipad Talking Talking variation Thinking/gets an idea Thumbs up Thumbs down Walking Wave | Rolly polly Happy Idle Jump in/angry Jump in/funny face Jump in/wave Pointing Pointing down Pushing an object Relaxing Riding a sled Running Sad Talking Dancing Rolly polly Happy Idle Jump in/funny face Jump in/wave Pointing down Pointing Pushing an object Sad Saluting Showing from corner Swiping on ipad Talking Talking variation Thinking/gets an idea Thumbs up Thumbs down Walking Wave | | |
December 2020 CreateStudio Characters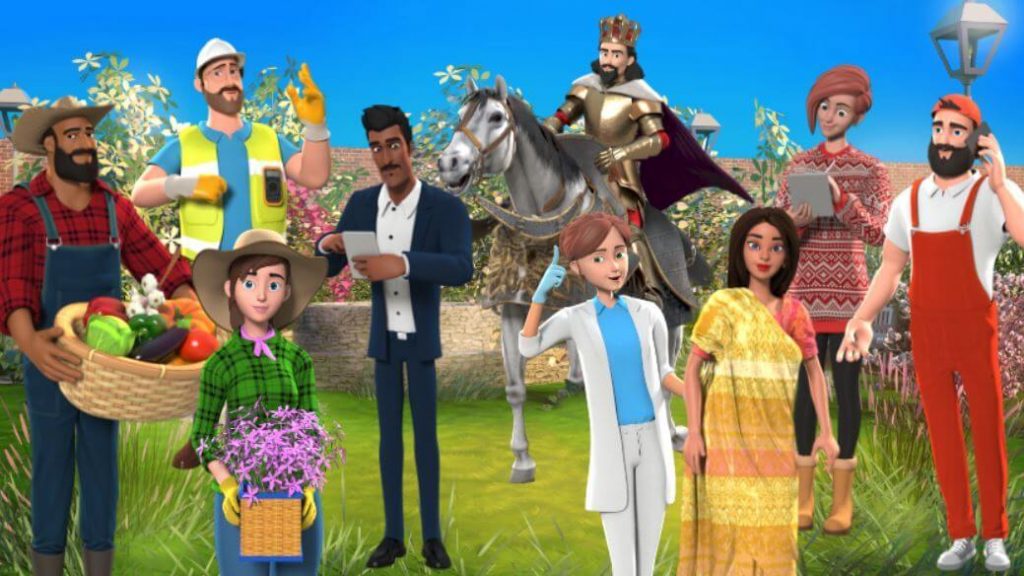 | | | |
| --- | --- | --- |
| King | Dentist | Electrician |
| Dancing Fighting Happy Idle Jump in/ funny face Jump in and wave Point down Pointing Pushing an object Riding a horse Sad Sitting Talking Talking variation Thinking /gets an idea Thumbs up Thumbs down Walking Waving | Check inside of mouth Checking teeth (boy) Checking teeth (girl) Checking teeth (man) Checking teeth (woman) Happy Idle Pointing Sad Show from corner Swiping Ipad Talking Talking variation Thinking/gets an idea Thinking/frustrated Thumbs up Thumbs down Walking Waving Working on PC | Driving service car Fixing fridge Fixing fuse Fixing washing machine Happy Happy dance Idle Pointing Pointing down Sad Swiping ipad Talking Talking variation Thinking/gets an idea Thinking/frustrated Thumbs up Thumbs down Walking Waving Working on PC |
| | | |
| --- | --- | --- |
| Emma | Gardener | Jacob |
| Drawing on ipad Happy Idle Pointing Pointing down Sad Show from behind the corner Sketching on paper Swiping ipad Talking Talking variation Thinking/gets an idea Thinking/frustrated Thumbs up Thumbs down Video player falls down Walking Waving Working on PC (front) Working on PC (back) | Driving a lawn mower Driving a tractor Fixing hedge Fixing hedge with trick Happy High five Holding flowers Idle Pointing Raking leaves Sad Show from behind the corner Talking Talking variation Thinking/gets an idea Thinking/frustrated Thumbs up Thumbs down Walking Waving Working on PC | Happy Idle High five Jump in and wave Offer a box of fruits Offer a box of salad Offer a box of vegetables Pointing Pointing down Sad Show from behind the corner Talking Talking variation Thinking/gets an idea Thinking/frustrated Thumbs up Thumbs down Walking Waving Welcoming people Working on PC |
| | | |
| --- | --- | --- |
| Mia | Plumber | Rohit |
| Dance in traditional outfit Twist change dress Happy High five Idle Jump in and wave Playing on mobile Pointing Sad Show from behind the corner Sitting/listening to music Swiping ipad Talking Talking variation Thinking/gets an idea Thinking/frustrated Thumbs up Thumbs down Walking Waving Working on PC | Driving service car Fixing toilet Fixing sink Fixing sink (gushing water) Happy Idle Pointing Pointing down Sad Show from behind the corner Swiping ipad Talking Talking variation Talking on phone Thinking/gets an idea Thinking/frustrated Thumbs up Thumbs down Walking Waving Working on PC | Checking papers Happy High five Idle Jump in and wave Pointing Sad Show from behind the corner Sitting and relaxing Swiping ipad Talking Talking variation Thinking/gets an idea Thinking/frustrated Thumbs up Thumbs down Walking Waving Working on PC Working on PC/ gets an idea |
February 2021 CreateStudio Classy Characters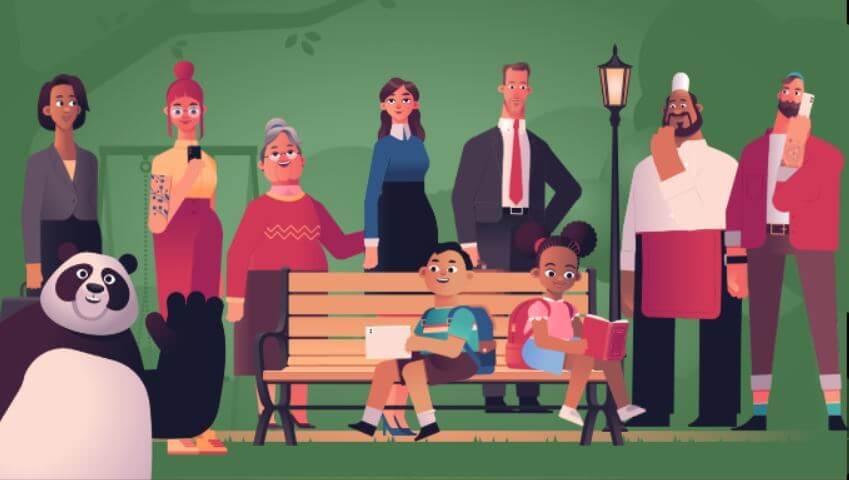 | | | |
| --- | --- | --- |
| Business man | Business woman | Chef |
| Angry Handshake Happy High five A High five  B Idle Phone call Pointing Reading a book Sad Sitting Talking Talking to someone A Talking to someone B Thinking then gets an idea Thumbs up Using a tablet Waiting Walking Wave Working on PC Working on PC Angry Working on PC Surprised | Angry Handshake Happy High five A High five B Idle Phone call Pointing Sad Sitting Sitting and reading Talking Talking to someone A Talking to someone B Thinking then gets an idea Thumbs up Using a tablet Waiting Walking Waving Working on PC Working on PC Angry Working on PC Back Working on PC Surprised | Angry Chopping vegetables Flipping pancakes Fried egg Handshake Happy High five  A High five Holding a bowl Nodding head Pointing Sad Talking Talking on the phone Tasting soup Thinking then gets an idea Thumbs up Using a tablet Walking Wave Working on PC Working on PC no desk |
| Child student | Child student | Grandma |
| Angry Basketball Dancing Funny face Happy High five A High five B Idle Juggling Jump in and wave Pointing Reading a book Sad Skateboarding Skipping Talking Thinking then gets an idea Thumbs up Using phone Using tablet Walking Waving | Angry Basketball Basketball spinning ball Checking phone Dancing Football dribbling Football juggling Funny face Happy High five A High five B Idle Jump in and wave Pointing Reading a book Sad Skateboarding Talking Thinking then gets an idea Thumbs up Using tablet Walking Waving | Angry Dancing Handshake Happy High five A High five B Holding a cake Idle Phone call Pointing Reading Reading on a chair Sad Sitting with laptop Sleeping Talking Thinking then gets an idea Thumbs up Walking Waving Working on PC |
| Hipster | Hipster girl | Panda |
| Angry Catching Checking phone Handshake Happy High five A High five B Idle Phone call Pointing Pushing an object Revealing a sketch Riding a bike Sad Selfie Sitting and listening to music Talking Thinking then gets an idea Thumbs up Walking Waving Working on PC Angry Working on PC Angry no desk Working on PC Happy Working on PC no desk | Angry Checking Phone Handshake Happy High five A High five B Idle Phone call Pointing Riding a bike Sad Selfie Sitting and listening to music Sitting with laptop Talking Thinking then gets an idea Thumbs up Using tablet Walking Waving Working on PC Working on PC Angry Working on PC Angry no desk Working on PC back Working on PC back no desk Working on PC no desk | Angry Dancing Eating bamboo Funny face Happy Idle Jump in and scare Jump in and wave Lifting weights Pancake Pointing Sad Scratching head Smile and wave Talking Thinking then gets an idea Thumbs up Walking Waving Working on PC Working on PC no desk |
| Teacher | | |
| Angry Catch Checking papers Driving a car Eating an apple Handshake Happy High five A High five B Idle Pointing Pushing an object Sad Sitting and reading Talking Thinking then gets an idea Thumbs up Walking Wave Working on PC Working on PC Angry Working on PC Angry no desk Working on PC on PC no desk Writing | | |
March 2021 CreateStudio Classy Characters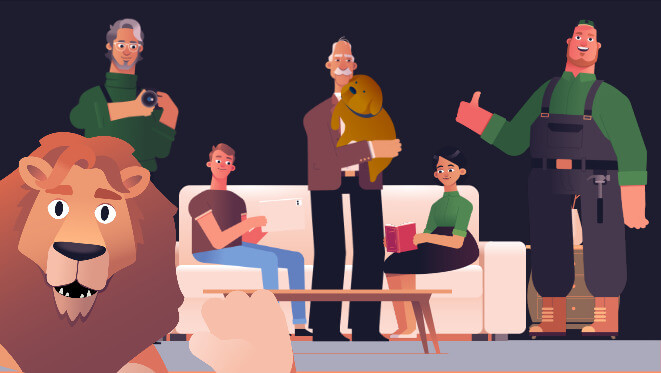 | | | |
| --- | --- | --- |
| Grand dad | Lion | Photographer |
| Angry Back pain Checking phone Coffee Driving cat Funny face Happy High five left hand High five right hand Holding dog Idle Pointing Sad Scratching head Sitting with book Sitting with laptop Sitting with laptop no chair Talking Thinking, then gets an idea Thumbs up Walking Walking dog Waving Working on PC Working on PC angry Working on PC angry no desk Working on PC no desk | Angry Close up and roar Close up and wave Happy High five left hand High five right hand Idle Jump in and scare Jump in and wave Pointing Sad Sitting, relaxed Sitting, with coffee Talking Thinking then gets an idea Thumbs up Using tablet Walking Working on PC Working on PC angry Working on PC angry no desk Working on PC (back Working on PC no desk | Angry Happy High five A High five B Idle Listening then talking Photo Photo checking picture Photo thumbs up Pointing Sad Talking Talking then listening Thinking then gets an idea Thumbs up Using an iPad Walking Wave Working on PC Working on PC angry Working on PC angry no desk Working on PC back Working on PC no desk Working on PC surprised Working on PC surprised no desk |
| Tradesman | Young boy | Young girl |
| Angry Driving a van Grabbing a hammer Happy Idle Listening then talking Sad Sitting with coffee Sitting with phone Sitting and waving Talking Talking then listening Thinking then gets an idea Thumbs up Trouble Walking Waving Working on PC Working on PC angry Working on PC angry no desk Working on PC no desk Working on PC surprised Working on PC surprised no desk | Angry Checking phone Close up and wave Dancing Funny face Happy High five left hand High five right hand Idle Juggling On bike Pointing Reading a book Sad Sitting with dog Sitting with tablet Talking Thinking then gets an idea Thumbs up Walking Walking the dog Waving Working on PC Working on PC angry Working on PC angry no desk Working on PC no desk | Angry Close up and wave Dancing Funny face Happy High five left hand High five right hand Idle Jump in and wave Pointing Reading a book Sad Sitting with dog Sitting with tablet Talking Thinking then gets an idea Thumbs up Walking Walking the dog Waving Working on PC Working on PC angry Working on PC angry no desk Working on PC no desk |
April 2021 CreateStudio Safari Characters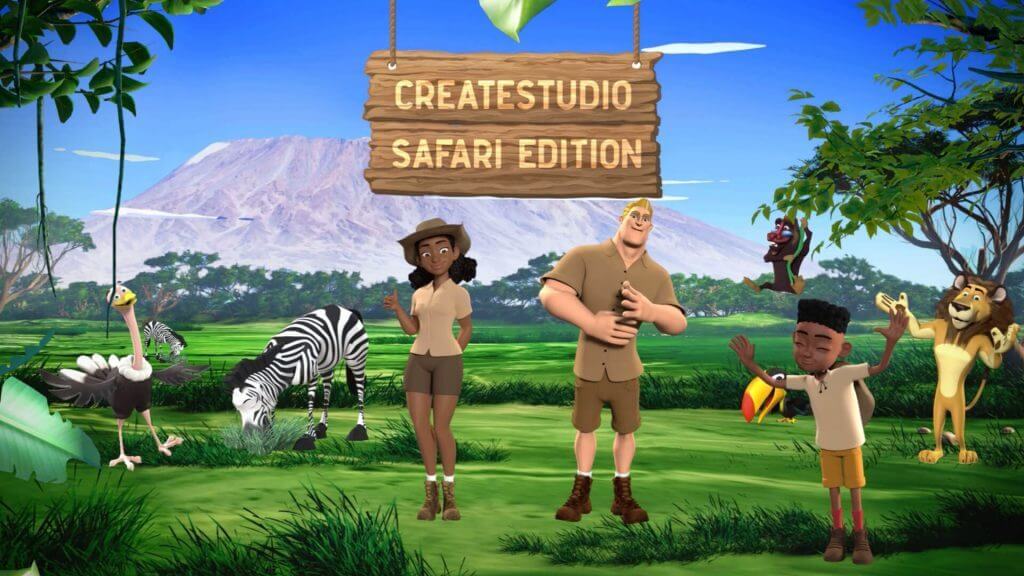 | | | |
| --- | --- | --- |
| Lion | Monkey | Ostrich |
| Big smile Close up and scare Close up wave Dancing Happy Idle Juggling Jump in and wave Phone call Pointing Sad Sitting and reading Sleeping Talking Thinking then gets an idea Thumbs up Walking Wave Working on PC Working on PC back | Eating a banana Funny face Happy Idle Juggling balls Jump in and wave Laughing Pointing Ready for business Sad Scratching his head From behind the corner Swinging on liane Talking Thinking then gets an idea Thumbs up Walking Wave Working on PC Working on PC back | Agreeing Big smile Close up and wave Confused Disagreeing Falling asleep Fly in Funny dance Happy Idle Pointing Pointing down Running Sad Selfie Talking Thinking then gets an idea Walking Wave |
| Safari guide female | Safari guide male | Safari guide kid |
| Driving a jeep Happy High five Idle Jump in and wave Listening then talking Pointing Running away Sad From behind the corner Sitting Sitting and drinking Talking Talking and listening Talking scared Thinking then gets an idea Thumbs up Walking Watching with binoculars With binoculars and pointing With binoculars back view Wave Working on PC | Driving a jeep Happy High five Idle Jump in and wave Listening then talking Pointing Running away Sad From behind the corner Sitting Sitting and drinking Talking Talking and listening Talking scared Thinking then gets an idea Thumbs up Walking Watching with binoculars With binoculars and pointing With binoculars back view Wave Working on PC | Close up and wave Funny dance Happy High five Idle Jump in and dance Jump in and wave Pointing Running away Sad Scared From behind the corner Sitting with phone Talking Thinking then gets an idea Thumbs up Walking Watching with binoculars With binoculars & pointing Wave Working on PC |
| Toucan | Zebra | |
| Agreeing Close up and smile Dancing and singing Disagreeing Eating Flying Flying in Happy Idle Pointing Reading Sad Selfie Smile and wink Talking Thinking then gets an idea Walking Wave Wink | Agreeing Big smile Close up and wave Dancing Disagreeing Eating Falling asleep Happy Idle Jump in and wave Pointing Pointing down Pushing a sign Running Sad Talking Thinking then frustrated Thinking then gets an idea Walking Wave | |
May 2021 CreateStudio Doodle Characters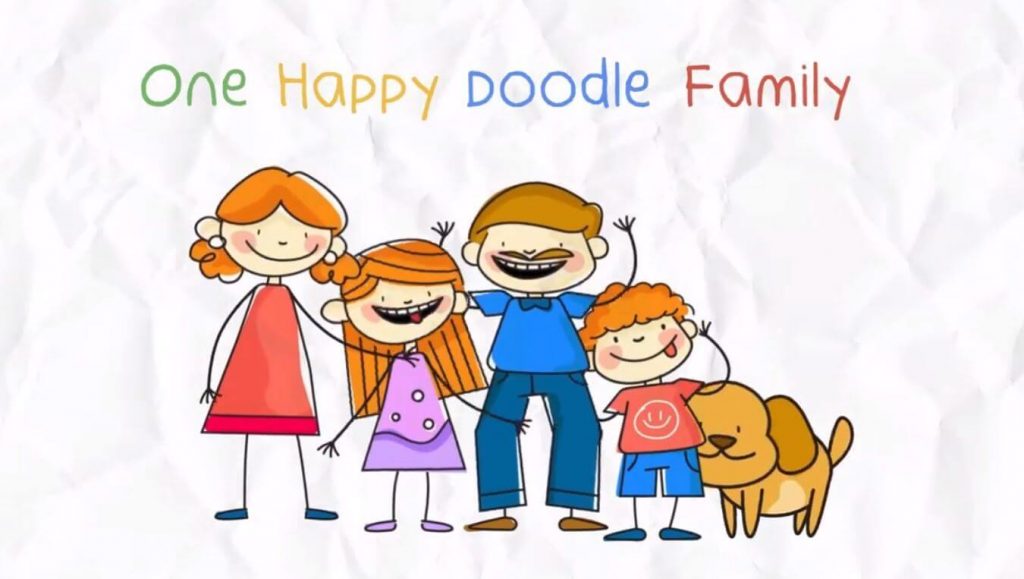 B oy
Dog
Doodle Dad

Crying

Funny face

Handshake

Handshake reversed

Happy

Hug

Ice cream

Idle

Laboratory

Listening to music

Playing with dog

Pointing

Reading a book

Sad

Talking

Thinking then gets an idea

Thumbs up

Walking

Walking with dog

With magnifying glass

Wave

Working on PC

Browsing

Close up

Eating

Flip

Idle

Playful

Running Walking Woof

Crying

Handshake Handshake right hand Happy Hug Idle Listening to music Pointing Reading a book Sad Talking Thinking then gets an idea Thumbs up Walking Walking the dog Waving Working in laboratory Working on PC
Doodle Mom
Girl

Crying

Handshake

Handshake right hand

Happy

Hug

Idle

Listening to music

Pointing

Pointing down

Reading a book

Sad

Talking

Thinking then gets an idea

Thumbs up

Walking

Walking the dog

Waving

Working in the laboratory

Working on PC

Crying

Funny face

Handshake

Handshake reversed

Happy

Hug

Ice cream

Idle

Listening to music

Playing with dog

Pointing

Reading a book

Sad

Talking

Thinking then gets an idea

Thumbs up

Walking

Walking the dog

With magnifying glass

Wave

Working on PC
June 2021 CreateStudio Start Up Edition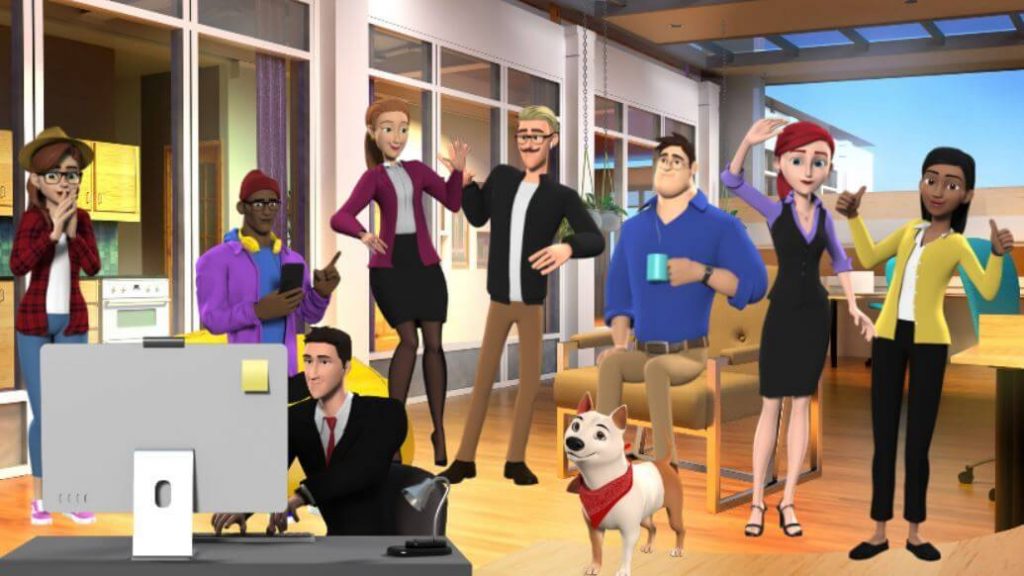 Charlotte

Dog

Dominic
Clapping Dancing Frustrated Funny Happy High five Idle Pointing Pointing back view Showing graph Showing graph on knee Sitting and pointing down Sitting with coffee Sitting with phone Standing on ladder Talking Talking and listening Talking shorter Thinking then gets an idea Thumbs up Walking Wave Working on PC Working on PC back Working on PC happy Working on PC no desk
Woof Dancing Dog poop Eating dog food Happy Idle Playful jumping around Playing with mobile Pointing Running Sitting, looking at phone Sitting back view Slide in and lick Slide in and wink Talking Talking with stick Walking Woof and smile Working on PC
Angry Frustrated Happy High five Idle Pointing Pointing back view Presenting graph Presenting graph on knee Sitting Sitting and drinking coffee Sitting and pointing down Sitting and talking Sitting with phone Slide in and wave Talking Talking and listening Talking short Thinking then gets an idea Thumbs up Walking Wave Working on PC Working on PC back Working on PC happy Working on PC no desk

Eddie

Lucas

Natalia

Clapping Dancing Frustrated Happy High five Idle Pointing Pointing back view Showing graph Sitting and pointing down Listening to music Sitting with coffee Sitting with phone Skateboarding Talking Talking and listening Talking variation Thinking then gets an idea Thumbs  up Walking Wave Working on PC Working on PC back Working on PC celebrate Working on PC no desk
Clapping Frustrated Happy High five Idle Pointing Sitting and drinking coffee Sitting and using phone Talking Talking and listening Talking short Thinking then gets an idea Thumbs up Walking Wave Working on PC Working on PC back Working on PC happy Working on PC no desk Working on PC thinking
Dancing Frustrated Happy High five Idle Listening Pointing Sitting and drinking coffee Sitting and pointing down Sitting with phone Talking Talking and listening Talking short Thinking then gets an idea Thumbs up Walking Wave Working on PC Working on PC back Working on PC happy Working on PC no desk

Oliver

Susan

Victoria

Celebrating Frustrated Happy High five Idle Pointing Pointing back view Sitting Sitting and drinking coffee Sitting and using phone Standing on a ladder Talking Talking and listening Talking short Thinks then gets an idea Thumbs up Waiting Walking Wave Working on PC Working on PC back Working on PC frustrated Working on PC happy Working on PC no desk
Frustrated Happy High five Idle Looking at docs frustrated Looking at documents Pointing Presenting chart Presenting chart kneeling Sitting and drinking coffee Sitting and using phone Talking Talking and listening Talking variation Thinking then gets an idea Thumbs up Walking Walking with papers Wave Working on PC Working on PC back Working on PC happy Working on PC no desk
Dancing Frustrated Happy High five Idle Listening Pointing Pointing back view Presenting graph Presenting graph  standing Sitting Sitting and drinking Sitting and pointing down Sitting and using phone Sitting back view Sitting listening and talking Standing on ladder Talking Talking and listening Talking shorter Thinking then gets an idea Thumbs up Walking Wave Working on PC Working on PC back Working on PC happy Working on PC no desk
July 2021 CreateStudio Olympics Edition Characters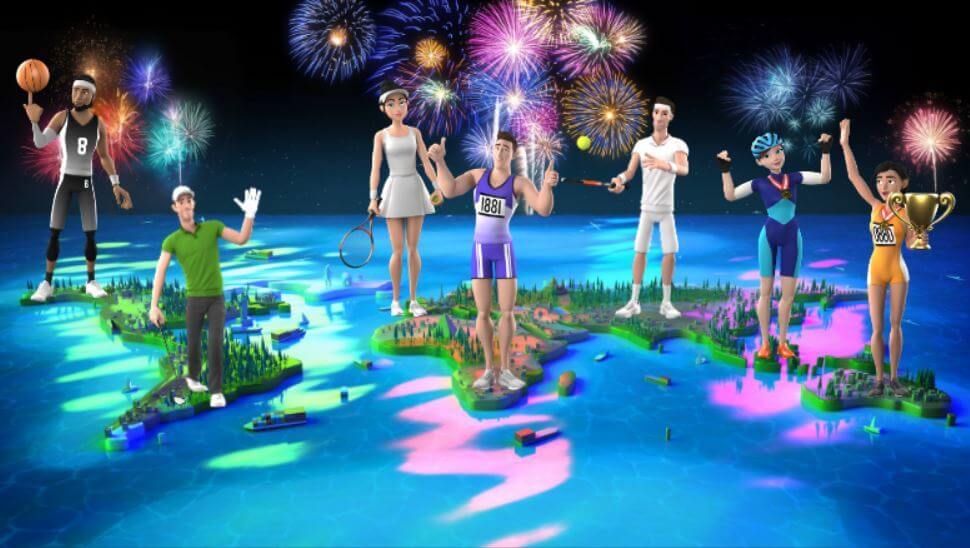 | | | |
| --- | --- | --- |
| Golfer | Athlete girl | Athlete guy |
| Angry Breaking the glass Celebrate Celebrate with trophy Dancing Happy High five Hit the ball and celebrate Hit the ball side view Hit the ball – sad Idle Pointing Sad Talking Talking short Thumbs up Waiting Walking Wave | Backflip Celebrate Celebrate like Usain Bolt Happy High five High jump Idle Long jump Pointing Running Running Front view Running looped Sad Slide in and wave Talking Throwing a discus Thumbs up Tired Using phone Walking Wave | Backflip Celebrate like Usain Bolt Celebrate with trophy Happy High five Idle Long jump Pointing Running Running front view Running looped Sad Sitting Slide in and wave Talking Throwing a discus Thumbs up Tired Using phone Walking Wave |
| Basketball player | Cyclist | Tennis player girl |
| Break the glass Dribbling Dribbling between legs Dribbling with mistake Happy High five Holding a trophy Idle Pointing Sad Shot and miss Shot and score Slide in and spin the ball Slide up and wave Spinning the ball Talking Thumb up Trick with the ball Walking Wave | Angry Celebrate Celebrate with medal Dancing Drinking water Happy High five Idle Jump off the bike Pointing Ride on the bike & wave Ride on the bike & sprint Ride on the bike & tired Sad Slide in and wave Talking Thumbs up Tired Walking Wave | Angry Celebrate with trophy Fixing Racquet Happy High five Idle Juggling on racquet Pointing Practicing Sad Serve and break glass Serve the ball Slide in and wave Talking Talking short Thumbs up Tired Using phone Walking Wave |
| Tennis player guy | | |
| Celebrate with trophy Drinking water Fixing the racquet Happy High five Idle Juggling tennis ball Playing with the ball Sad Serve and break the glass Serving the ball Slide in and wave Smiling Talking Talking short Thumbs up Tired Using phone Walking Wave | | |
ALL ACCESS CLUB COLORFUL CHARACTERS CREATESTUDIO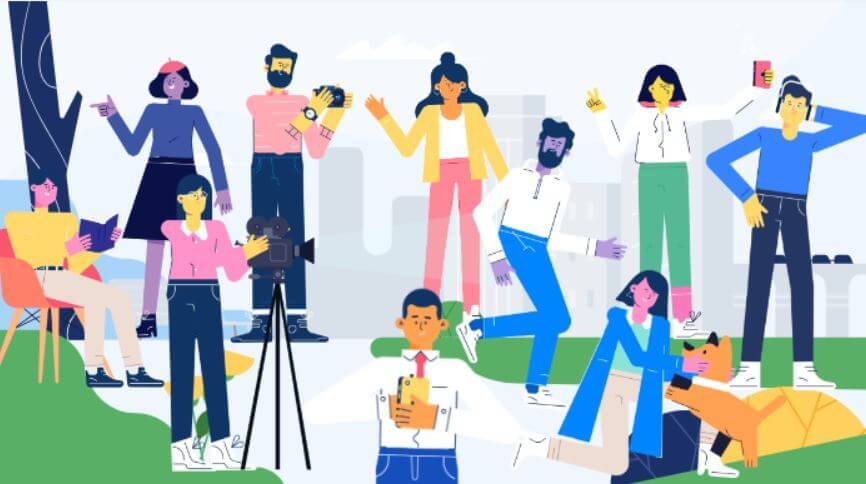 FREE SUPREME CHARACTERS CREATESTUDIO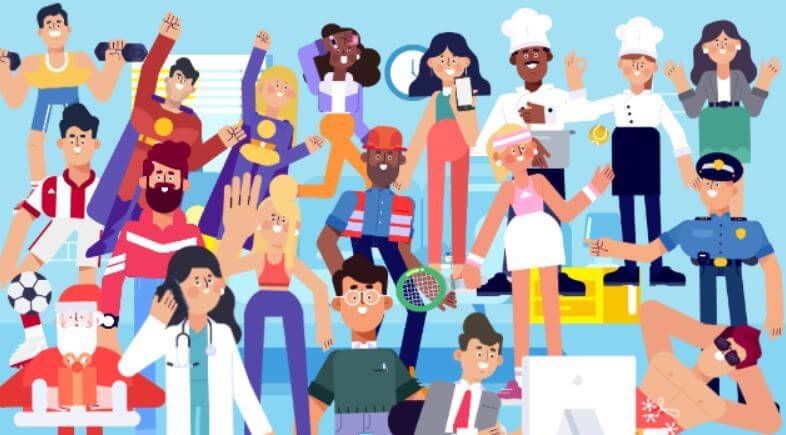 Fitness Boy
Fitness Girl
Hipster Guy
Hipster Girl
Chef Guy

Catch
Dumbbells
Happy
Idle
Run In
Run Out
Tired
Walk In
Walk Out
Wave

Catch
Dumbbells
Happy
Idle
Run In
Run Out
Tired
Walk In
Walk Out
Wave

Catch
Checking iPhone
Idle
Music
Run In
Run Out
Sad
Showing Phone
Unsure
Walk In
Walk Out
Wave

Catch
Checking iPhone
Idle
On Computer
Sad
Selfie
Showing Phone
Sitting and Typing
Tired
Unsure
Walk In
Walk Out
Wave

Catch
Idle
Mixing Pot
Perfect
Tired
Unsure
Walk In
Walk Out
Wave

Construction Guy 
Football Guy 
Female Doctor
Male Teacher
Female Teacher

Catch
Idle
On Computer
Phone
Sitting and Typing
Thumbs Up
Tired
Unsure
Walk In
Walk Out
Wave

Catch
Idle
Juggling
Run In
Run Out
Sad
Thumbs Up
Walk In
Walk Out
Wave

Idle
iPad
On Computer
Phone
Pointing
Thumbs Up
Tired
Typing
Walk In
Walk Out
Wave

Coffee
Idle
On Computer
Phone
Pointing
Thumbs Up
Tired
Typing
Unsure
Walk In
Walk Out
Wave

Coffee
Idle
On Computer
Phone
Pointing
Thumbs Up
Tired
Typing
Unsure
Walk In
Walk Out
Wave
Wave Both Hands

Female Superhero
Male Superhero
Business Guy 
Chef Girl
Chef Guy

Angry
Drinking
Fly In
Fly Out
Flying Horizontal
Flying Loop
Flying Up
Holding Sign
Idle
Selfie
Sign
Walk In
Walk Out
Wave

Angry
Drinking
Fly Horizontally
Fly In
Fly Out
Flying
Idle
Selfie
Sign
Walk In
Walk Out
Wave

Coffee
Handshake
Idle
Ipad
On Computer
On Phone
Pointing
Thumbs Up
Typing
Unsure
Walk In
Walk Out
Wave

Catch
Idle
Mixing Pot
Perfect
Tired
Unsure
Walk In
Walk Out
Wave

Catch
Idle
Mixing Pot
Perfect
Tired
Unsure
Walk In
Walk Out
Wave

Tennis Girl
Beach Dude
Police Man
Santa
Athlete Girl

Celebrating
Drinking
Idle
Ipad
Run In
Run Out
Tennis Serve
Thumbs Up
Unsure
Walk In
Walk Out
Wave

Drinking
Eat
Idle
Phone
Phone Call
Pointing
Selfie
Sunbathing
Thumbs Up
Walk In
Walk Out
Wave

Angry
Handcuffs
Happy
Idle
Ipad
Pointing
Talking
Thumbs Up
Waiting
Walk In
Walk Out
Wave

Coffee Chair
Gift
Ho Ho Ho
Idle
Phone
Sit Coffee
Sit Laptop
Sit Sleeping
Sit Typing
Sitting
Sitting Chair
Sleeping Chair
Walk In
Walk Out
Wave

Coffee
Eating
Hi5
Idea
Idle
On Computer
Phone
Phone Call
Typing
Walk In
Walk Out
Wave
ALL ACCESS CLUB SUPREME CHARACTERS CREATESTUDIO: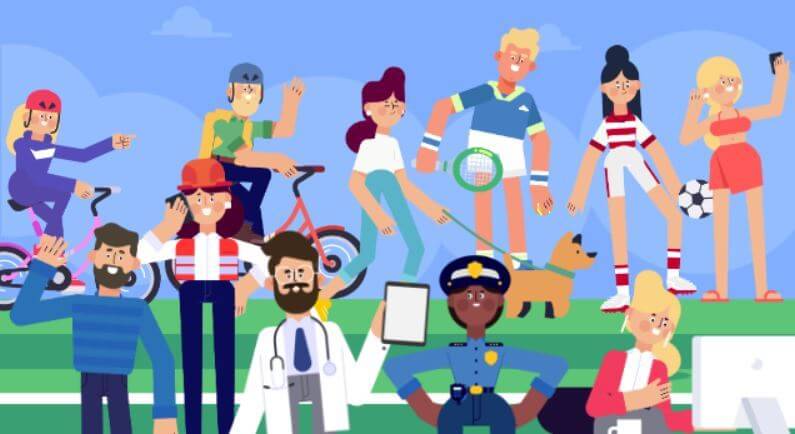 Casual Guy (ALL ACCESS )  
Casual Girl (ALL ACCESS )    
Construction Girl (ALL ACCESS )
Football Girl (ALL ACCESS )

Coffee
Eating
Hi5
Idea
Idle
On Computer
Phone
Phone Call
Typing
Walk In
Walk Out
Wave
Yawn

Car
Happy
Idle
Ipad
On Computer
Phone Call
Sad
Typing
Walk Dog
Walk In
Walk Out
Wave

Catch
Idle
On Computer
Phone
Thumbs Up
Tired
Typing
Unsure
Walk In
Walk Out
Wave

Catch
Idle
Juggling
Run In
Run Out
Sad
Thumbs Up
Walk In
Walk Out
Wave

Business Girl (ALL ACCESS )
Doctor Guy (ALL ACCESS )
Beach Girl (ALL ACCESS )    
Tennis Guy (ALL ACCESS )

Coffee
Handshake
Idle
Ipad
On Computer
On Phone
Pointing
Thumbs Up
Typing
Unsure
Walk In
Walk Out
Wave

Idle
iPad
On Computer
Phone
Pointing
Thumbs Up
Tired
Typing
Walk In
Walk Out
Wave

Drinking
Eat
Idle
Phone
Phone Call
Pointing
Selfie
Sunbathing
Thumbs Up
Walk In
Walk Out
Wave

Celebrating
Drinking
Idle
Ipad
Run In
Run Out
Tennis Serve
Thumbs Up
Unsure
Walk In
Walk Out
Wave

Police Girl (ALL ACCESS )    
Cyclist Guy (ALL ACCESS )    
Cyclist Girl (ALL ACCESS )    
 

Angry
Handcuffs
Happy
Idle
Ipad
Pointing
Talking
Thumbs Up
Waiting
Walk In
Walk Out
Wave

Front Idle
Front Pointing
Front Thumbs Up
Front Tired
Front Wave
Side Idle
Side Pointing
Side Tired
Side Wave
Thumbs Up

Front Idle
Front Pointing
Front Thumbs Up
Front Tired
Front Wave
Side Idle
Side Pointing
Side Thumbs Up
Side Tired
Side Wave
ALL ACCESS CLUB ELEGANT CREATESTUDIO CHARACTERS: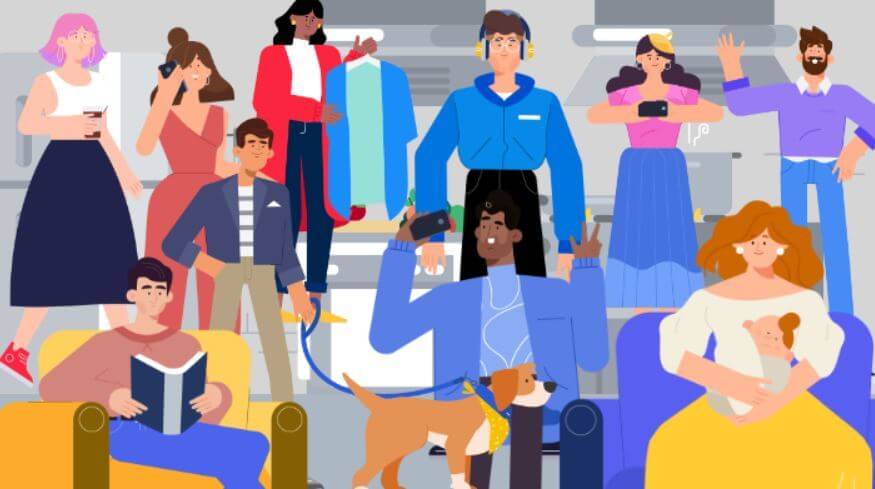 Cruz (ALL ACCESS CLUB)
Danny (ALL ACCESS CLUB)
Holly (ALL ACCESS CLUB)
Jen (ALL ACCESS CLUB)

Driving Car
Pointing
Sad
Sitting With PC
Swiping Ipad
Talking
Walking
Waving
Working on PC Back
Working on PC Front

Idea
Laughing
Listening Music
Selfie
Skateboarding
Taking Photo
Talking
Walking
Waving
Working on Laptop

Dancing
Patting Dog
Pointing
Recording
Selfie
Swiping Ipad
Talking Side
Walking
Working on PC

Holding Garment
Laughing
Patting Dog
Taking Photo
Talking
Using Phone
Walking With Dog
Waving
Working on PC

Kate (ALL ACCESS CLUB)
Mark (ALL ACCESS CLUB)
Marry (ALL ACCESS CLUB)
Molly (ALL ACCESS CLUB)

Driving Car
Holding Baby
Phone Call
Recording
Riding On Scooter
Taking Photo
Talking
Walking with Dog
Waving
Working on PC

Driving Car
Reading Book
Reading Book on Sofa
Talking
Typing on iPhone
Waiting
Walking
Walking with Dog
Waving
Working on PC Back
Working on PC Front

Dancing
Patting Dog
Pointing
Sitting With Baby
Speaking
Swiping Ipad
Taking Photo
Walking Dog
Waving
With Baby
Working on PC

Idea
Listening Music
Riding on Scooter
Selfie
Skateboard
Swiping Ipad
Taking Photo
Walking
Walking With Coffee
Waving
Working on PC

Sulie (ALL ACCESS CLUB)
Tom (ALL ACCESS CLUB)

Driving Car
Frustrated
Patting Dog
Reading Book
Swiping Ipad
Taking Photo
Talking Front
Talking Side
Walking With Coffee
Waving

Listening Music
Phone Call
Riding A Scooter
Skateboarding
Swiping Ipad
Using Iphone
Walking
Waving
Working on PC Ba